Be your own Wealth Manager
Smart, Personalised, Commission-Freei. Grow your money the way you want and invest in what matters to you. Get started for free.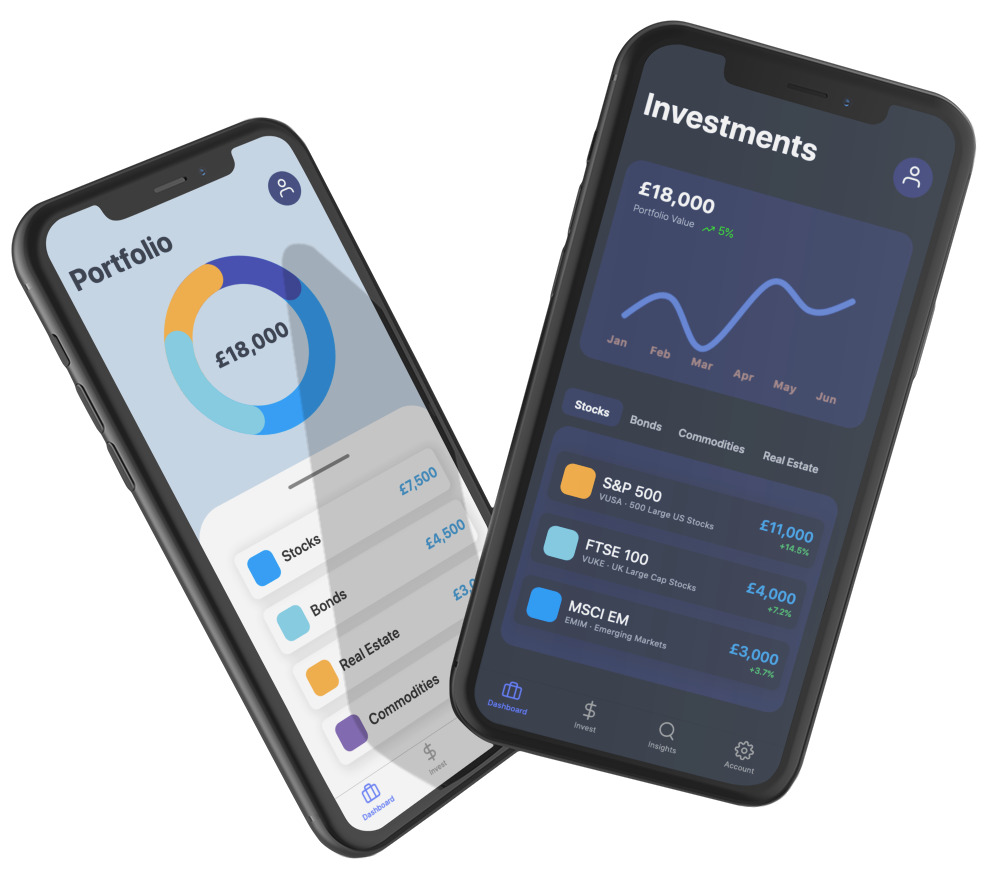 We bring the best of two worlds in
DIY Wealth Management
Enjoy a friendly and personalised user experience. You are always in control over the decision-making.
Leverage our next-gen tools with insights, automated rebalancing and personalised touch for a smart investing journey.
With no trading fees or commissions, your money can grow to its full potential. See our pricing for details.
Commission-Free
It is commission-free! We don't charge a % on your investment value, so you can grow your money to its full potential! Calculate how much you can save on fees and the compounded value over time.
Personalised
Customise your portfolio for a personalised experience. Although we provide a template allocation as a starting point, you can customise your portfolio and rebalance any time.
Full Control
You have full control and transparency through your investment journey. All investment decisions are on you and we support you with all the tools you need to make the best ones.
Diversify
Diversify your portfolio across Equities, Bonds, Commodities & Real Estate. It is not a bunch of randomly selected stocks.
Optimal Templates
Choose among our optimal allocation templates, with different risk-reward profiles.
Visual Tools
Access our visual tools and charts to understand how your portfolio is allocated and construct the one that best suits you.
Projection & Insights
See projections and real-time insights for the expected growth of your portfolio in better or worse market conditions.
Track & Rebalance
Get detailed tracking statistics and use our automated rebalancing tool to keep everything under your control.
How it Works
Build a personalised portfolio
Decide your

initial and monthly investment

.
Select the

optimal allocation template

based on its risk-reward profile. Our templates consist of different asset classes, from numerous markets, jurisdictions and industries worldwide, to achieve the widest diversification.
Customise your portfolio as much as you want. We 'll support you through the process, with

smart insights, statistics, visual tools

and pie charts that give you an instant holistic view.
Track your money as it grows
After every change, check the expected growth and risk of your investment with our

real-time projection tool

.
When you feel ready,

INVEST

! You can start investing with as little as £10, so you can start small and grow along with your money.
Don't stop there. Track the

growth of your portfolio

, a breakdown of its performance and

rebalance anytime

.
Peace of mind with money protection
Your money is safe and

FSCS protected

.
Your plan is

tax-efficient

, with ISAs available.
We use only

trusted providers

, like Blackrock, Vanguard and HSBC.
*Tax treatment depends on individual circumstances and is subject to change.
Calculate how much you save on fees
Investment fees add up and could cost you hundreds of thousands over time. In contrast to robo-advisors, Wealthyhood charges no % fees on AUM or commissions. With Wealthyhood, this extra 1% goes straight to your investment, every year. And compounds!
You can make£99,151more, just by doing the smart pick! Will this be you?
Grow your money to its full potential
Start building your wealth with a commission-free investment portfolio.
Frequently Asked Questions