ETFs
Learn
ETFs
Building an ETF portfolio
Can you build a balanced portfolio with just two products?
You can use ETFs as part of a broader investment mix 🍲 – or you can construct an entire portfolio from ETFs. The range of different ETFs can make it easy to build a balanced portfolio ⚖️, where any losses in one investment are hopefully mitigated by gains elsewhere.
How do I start?
With more than 5,000 ETFs to choose from, you're going to have to do some whittling down.
Good news! 🦸🏻
At Wealthyhood, we've done it for you! You only have to select the asset classes, geography, industry and themes you want to invest in, and we'll handle the rest. We've pre-screened the entire ETF universe to cherry-pick the ETFs that match the criteria you select. 👌🏼
How many ETFs will I need?
ETFs' breadth is many times considered enough to build a pretty diverse portfolio with just two: one tracking global stock markets and one tracking a broad measure of bonds. This setup has the virtue of simplicity – it's really easy to track performance over time and rebalance between the two if you feel the need.
If you want to go broader, you can try splitting your investment between half a dozen ETFs. Perhaps a general US stocks ETF, one for major global stock markets, a gold or real estate ETF, and a few bond baskets of varying geographies.
You could even add ETFs tracking specific themes or industries, like cloud ☁️ computing, clean energy 🎐, biotechnology 🧬 or video gaming. 🎮
What else do I need to think about?
As we've discussed in other learning guides, make sure the holdings of your various ETFs don't overlap too much – or else you're reducing your diversification. ETFs are very transparent – revealing every day exactly what they're invested in – so you can check that out easily enough.
At Wealthyhood, you can always go to each ETF's page and check out the top-10 holdings to better understand your exposure. 🔍
How to buy an ETF?
Now, you'll need to put the theory into practice. There are a few online apps and platforms where you can buy, sell, and monitor your ETFs; just sign up!
But before that and above all: focus on fees. Make sure you know how much the ETF provider is charging per year and how much your broker will charge you to buy and sell. If you're a Wealthyhood user, that's no problem for you. 💪🏼
ETF investing comes with no commissions at all, and we've made our homework to pick providers, like Vanguard, Blackrock, Invesco, WisdomTree and more, with some of the lowest management fees out there. 🙂
And that's that.
You've completed our pack on ETFs and smart beta and now have the knowledge 🎓 you need to get involved if you so desire. Drop us a line with any feedback or questions you have and we'll be happy to help!
-
Source: Finimize
Always keep in mind that when investing, your capital is at risk. These ideas are food for thought. If you are unsure about what to do you should seek professional advice.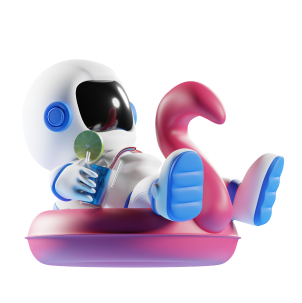 Invest your money with confidence
When you invest your capital is at risk.