Save, invest or trade
Learn
Save, invest or trade
Saving: Little piggy goes to market
The stability of savings
It's not just Richie $ Rich: children everywhere know the value of saving. (Yes, Richie's middle name was a dollar sign.) Occasionally drop some coins into your piggy bank, and a few months down the road, you'll have the joy of smashing open the porcelain porker and seeing your accumulated riches spill out onto the bed. RIP, Hamlet. 🐷
Saving's simple in theory: you put money regularly to one side in the hope that out of sight means out of mind. And stashing the cash somewhere other than your main bank account – for example, via an automatic post-payday transfer – means you'll be less likely to spend it. Leave them for long enough, and thanks to the compound effect (where any increases themselves generate more increases) those regular savings will soon grow.
Even if you've already set up an emergency fund to cover any financial shocks, saving can still be a good strategy to achieve a particular goal, whether that's a holiday, a car, or even a house deposit. You can work backwards: for example, if you need £1,000 for a holiday in 12 months' time, you'll need to put aside roughly £20 a week. Sun doesn't seem so far away now, does it? 👙 
Where should I put the money? 💰
You could keep using piggy, but it's not ideal. Not only will you quickly run out of space, but the Bank of Bacon doesn't pay out any interest. As inflation means that the value of your savings is constantly being eroded, you want to be earning at least some return on your money.
Savings accounts can help. They'll pay you interest to keep your money with them – and providing it's higher than inflation, the value of your cash will keep growing. You can choose between an easy-access account, which will let you make withdrawals whenever, or a fixed-rate account. These will usually make you lock your money away for a year or two but will likely make up for it with a higher interest rate.
Think of a tax wrapper
If you're in the UK, you can also use some of the nifty tax wrappers to protect your gains from the taxman and get some nice bonuses too. If you're saving to buy your first house, for example, a Help to Buy ISA is a savings account that gets topped up by the government when it's time to transfer the title. 🏠
As mentioned, it can be good to save into these accounts regularly. You could set up automatic transfers from your main bank account and watch your savings grow over time. It'll be your very own beanstalk, and you won't even have to fight a giant at the end.
It's worth noting that savings accounts aren't perfect: the low interest rates they pay (2% annually is remarkable these days) mean your cash isn't going to swell rapidly in size. 😞 If you're after stronger returns in the medium term, you'll probably need to look at investing or trading. Check out the next chapter to learn more…
-
Once again, never forget that when you invest, your capital is at risk. Tax advantages are based on your personal circumstances and are subject to change.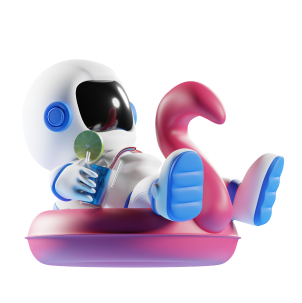 Invest your money with confidence
When you invest your capital is at risk.